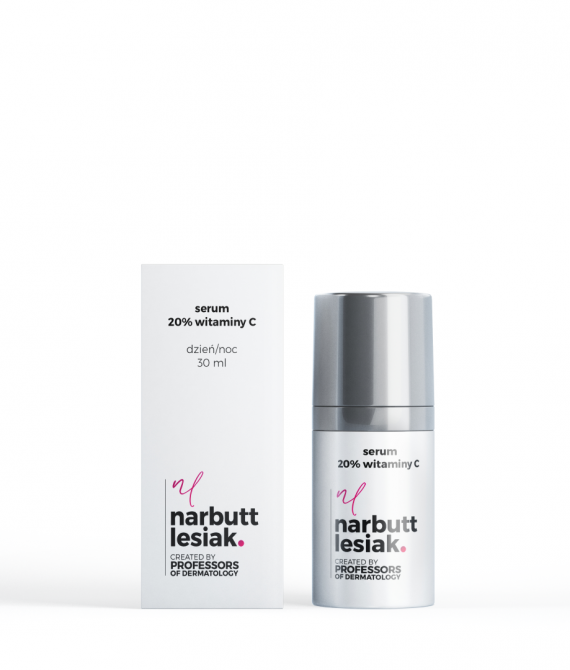 Normal skin
Serum with 20% vitamin C
---
Serum with 20% vitamin C by narbutt_lesiak is designed for face and neck skin care. Strongly moisturises the skin, improves its firmness and elasticity. It brightens the colour, has an anti-aging effect, delays the aging process.

The narbutt_lesiak created by professors products have advanced formulas, simple but rich compositions, and are highly effective.

Skincare

for all skin types. Strongly moisturises the skin, improves its firmness and elasticity. Protects skin against photoaging and reduces hyperpigmentation.

;

SERUM FOR ALL SKIN TYPES

The power of
WITAMINA C

SERUM WITH 20% VITAMIN C BY NARBUTT_LESIAK contains 20% concentration of the most stable vitamin C derivative that can be used in cosmetics. It is called the new generation of vitamin C that, unlike other water-soluble ascorbic acid derivatives, is directly utilised by the skin – it does not need to be converted inside to ascorbic acid by hydrolysis or enzymatic means. This form has, in comparison to the above-mentioned derivatives of vitamin C, better effect on the skin, is more stable, and much more assimilable. It can also be used on sensitive skin. Protects against photoaging and free radicals, supports sun protection. Stimulates collagen production and helps fight skin discolouration. Our cream also contains Kakadu plum extract, an amazing Australian superfood. Growing under the extreme UV index, this fruit has developed a unique protection mechanism and prevents the harmful effects of the sun on the skin. The serum is rich in nutrients, contains antioxidants such as polyphenols and vitamins C and E. One of the serum's super ingredients is also hyaluronic acid which in addition to its strong moisturizing properties promotes penetration of active ingredients deep into the skin.

 
HOW TO USE:
Apply to your face and neck. Do not apply to the eye area.
;
Normal skin
Other products in the series