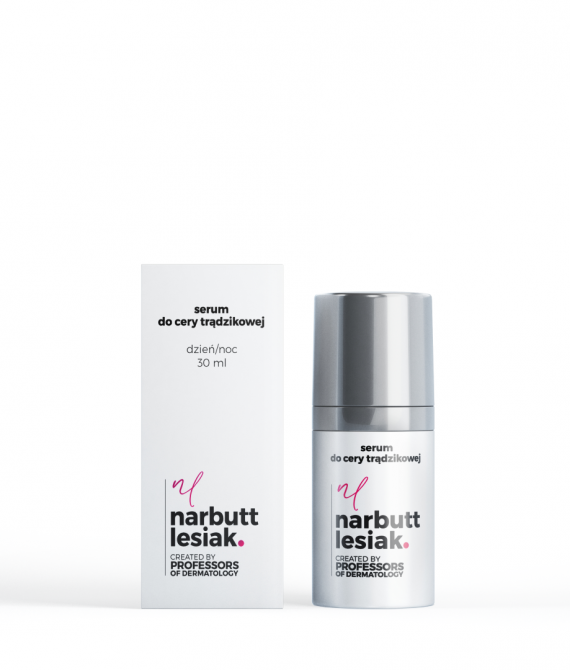 Acne-prone skin
Serum for acne-prone skin
---
This serum by narbutt_lesiak is designed to care for acne-prone skin. It soothes, reduces irritation and sebum secretion and is non-comedogenic. It provides deep moisturising. Helps fight acne. Accelerates the healing of acne lesions.

The narbutt_lesiak created by professors products have advanced formulas, simple but rich compositions, and are highly effective.

Skincare

acne-prone skin care. Helps fight acne. Accelerates the healing of acne lesions.

;

Serum for couperose skin

The power of
Dermosoft

SERUM FOR ACNE-PRONE SKIN BY NARBUTT_LESIAK contains a unique combination of 3 ingredients: Dermosoft Decalat Sebum, azelaic acid + glycine complex and vitamin B3. They are all natural, multifunctional active ingredients with antibacterial properties that reduce sebum production, blackhead formation, redness, pore visibility, and limit bacterial growth. Additionally, vitamin B3 stimulates the production of lipids and ceramides, which in effect limits water loss, i.e. helps maintain proper moisture level and makes the skin resistant to adverse external factors. This cosmetic also contains a postbiotic that helps to maintain the balance of microflora and restore the skin's moisture and radiance. It also includes natural Kakadu plum extract, an amazing Australian superfood. Growing under the extreme UV index, this fruit has developed a unique protection mechanism and prevents the harmful effects of the sun on the skin. The serum also includes an extract from Gotu Cola - Centella asiatica, an asiaticoside that has strong antibacterial, anti-oedematous, anti-inflammatory effects and accelerates wound healing.

 
HOW TO USE:
Apply to your face and neck. Do not apply to the eye area.
;
Acne-prone skin
Other products in the series